First listed on: 06 November 2017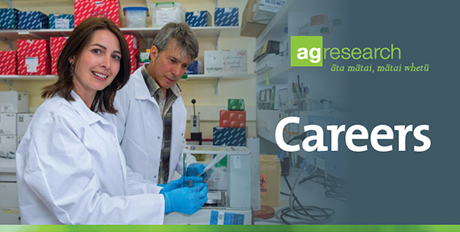 PhD Student – Jekyll and Hyde; when good bacteria turn bad
The Organisations
AgResearch is a leading Crown Research Institute charged with delivering science and innovation to benefit New Zealand agriculture and its wider economy. Our internationally recognised scientists are dedicated to this mission and we collaborate with world leading science organisations and universities to achieve exceptional science delivery. We are proud to be unique organisation that is driving prosperity by transforming agriculture to better equip our future generations to come.
The Riddet Institute is a world-best research centre in food and nutritional sciences, providing fundamental scientific understanding and training for a new generation of science leaders. The Institute is one of New Zealand's Centres of Research Excellence (CoRE) and as such, integrates partner organisations (Massey University (host), Auckland and Otago Universities, AgResearch and Plant & Food Research) and disciplines, to lead a "NZ Inc" approach to food research, and to generate new knowledge and capability that will transform New Zealand's food industry.
The Role
Identifying key molecular triggers that transform bacteria from "good to bad" is critical to understand and control inter-conversion between beneficial and harmful properties. Our research has found two phylogenetically similar strains of Lactobacillusfermentum which have contrasting effects on intestinal epithelial barrier integrity. One strain, AGR1485, was found to maintain the barrier integrity of cultured human epithelial colorectal adenocarcinoma Caco-2 cell monolayers, while the other, AGR1487, decreased the integrity. A healthy intestinal barrier is essential to preventing unwanted components entering our body and causing inflammatory and autoimmune diseases.
We are seeking an outstanding PhD candidate to undertake research to determine the genetic mechanisms responsible for the different effects of the two L. fermentum strains. Initial comparative analyses of draft genome sequences reveal that the strains have highly similar gene contents. However, a small number of loci have been found in AGR1487 but not AGR1485. These strains provides a unique opportunity to understand how the difference of a few factors may impact the health of the host, and how its manipulation can radically alter the balance of host microbial interactions. Using comparative genomics analyses, RNA sequencing, and site directed mutagenesis, the student will elucidate mechanisms that determine how phylogenetically similar strains can have markedly different effects and further the knowledge of Lactobacillus genome biology and its interactions with the health of the host.
Duties
Presenting a research seminar and written report to gain confirmation of PhD programme registration one year after starting
Presenting plans for research and experimental protocols to supervisors for review prior to carrying out
Completing laboratory experiments using techniques such as cell culture, bioassays, gene and protein expression analysis, genome editing and comparative genomics analyses.
Completing rodent experiments including day-to-day handling and terminal tissue sampling
Carrying out data analysis, including statistical analysis using Genstat and R and other bioinformatics packages
Writing a PhD thesis, including an extensive literature review, 3-5 research chapters and a general discussion
Submitting manuscripts to journals, including a mini-review article and at least two research articles, before the thesis is submitted
Ensuring legislative compliance, (e.g., Department of Labour, HSNO, EPA Animal Ethics) and appropriate data security

About you
A relevant Masters or Honours degree (e.g. physiology, molecular biology, immunology, microbiology) with a minimum grade of 2(i) or equivalent. First class is preferred.
Excellent written and oral communication skills (IELTS score of 6.5 required if English is not first language).
Strong analytical and problem solving skills.
Diligence, resilience and enthusiasm.
Previous cell culture, molecular biology, and genomics experience would be preferred. Experience in bioinformatics and R would also be advantageous.
Benefits
The 3.5-year studentship includes an annual tax-free stipend of NZD$30,000 plus tuition fees. The research will be undertaken with the Food Nutrition & Health team at AgResearch Grasslands and the Riddet Institute in Palmerston North, New Zealand. The project is funded by the Riddet Institute and the student will be enrolled at Massey University in Palmerston North
The opportunity to take part in leading edge research.
Be a part of a successful multidisciplinary research team.
Develop your career as an independent researcher.
How to apply
If you are interested in this position, please apply on-line via the link provided and include a covering letter detailing why you feel you would be suitable for this position.
Applications Close: 7 December 2017
For more information or for a confidential discussion please contact:
Associate Professor Nicole Roy (nicole.roy@agresearch.co.nz) or
Professor Warren McNabb (W.McNabb@massey.ac.nz) for any enquiries.

Closing Date:

07 Dec 2017
Location:

International - New Zealand
Salary:

annual tax-free stipend of NZD$30,000 plus tuition fees
Work Type:

Full Time
Category:

PhD/Masters/Scholarship/Cadetship/Traineeship
Research