Wagging can have lasting effect

Print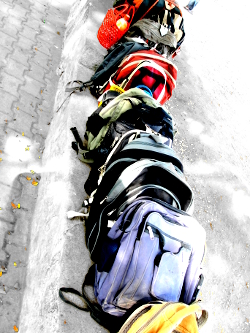 Researchers say skipping school can set kids up for a lifetime of underachievement.
A study by The Smith Family has tracked 30,000 disadvantaged students over seven years.
It found regular absence from school in Year 7 left kids with a less than 50 per cent chance of finishing Year 12.
Year 9 students who skipped school often were found to have just a 35 per cent chance of completing their studies.
The effects continue beyond school, with only two-thirds of kids who regularly skipped school continuing onto work or study.
But the study also revealed that interventions like academic tutoring, vocational mentoring and peer support can lift attendance and increase Year 12 graduation.
The report, Attendance lifts achievement: Building the evidence base to improve student outcomes, has been published this week.
Smith Family research head Anne Hampshire said schools could use the findings to target interventions and intensive support.
"There's no other national research that tracks 30,000 disadvantaged young people educationally in any of Australia's departments of education or any other programs that we know of," Ms Hampshire said.
"It's important as an organisation that we use this data to improve our programs.
"More particularly, this can be used by every school, by parents, by educational departments around the country to really achieve the improvements in educational outcomes that I think Australia is crying out for."
Ms Hampshire said only about 60 per cent of children from poor backgrounds finish Year 12.
"We know poverty is a big predictor for educational disadvantage," she said.
"They can really keep a very close eye on individual student's attendance, on their achievement in things like maths or English, because they're the early flags our data would show for whether or not a young person will complete Year 12 or not.
"If they see that a young person is not attending, it's really important that they work with the family to get that attendance up.
"They might be able to provide some additional tutoring, some additional mentoring to help young people really improve in basics like literacy and numeracy."