WA cubesat ascends

Print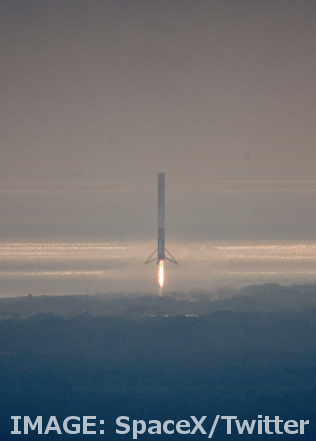 Western Australia's first locally-made satellite has been launched into space.
The Binar-1 satellite has been launched into orbit aboard a SpaceX Dragon spacecraft from NASA's Kennedy Space Centre in Florida, US.
The device is named for the Noongar word for fireball, and is now on its way to the International Space Station, from where it will be released into low-Earth orbit.
The Binar-1 CubeSat was designed, coded and built by staff and students from Curtin University's Space Science and Technology Centre (SSTC).
It is the start of an ongoing series of launches.
Curtin's Professor Phil Bland said the program has some exciting goals.
"The Binar Space Program has six more launches planned over the next 18 months. For context, in its history our nation has only flown 15 Australian-built spacecraft. Our novel design allows us to make spacecraft affordable, and space accessible for WA innovators," Professor Bland said.
"We will be able to control and command our missions from Perth through Fugro's Australian Space Automation, Artificial Intelligence and Robotics Control Complex (SpAARC), which will use Binar cubesats to test remote operation protocols on a spacecraft in orbit.
"Our ultimate goal is to have a WA-built spacecraft at the Moon by 2025. Space missions like that don't just inspire, they also drive innovation.
"The launch of Binar-1 is our first real step towards that goal. Being able to build spacecraft affordably means that we can rapidly iterate technology, which is a key element in developing advanced systems for exploration, that then also benefit other industry sectors."
The primary objective of Binar-1 is to test all the critical spacecraft systems that will help take future missions to the Moon. The two cameras on board Binar-1 will aim to capture images of the WA coastline and relay them back to Earth.
More details are accessible here.