Top execs plug tech for tomorrow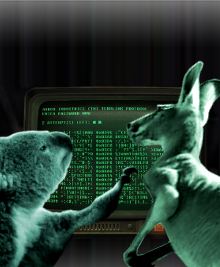 Some of Australia's top chief executives say the Turnbull government must focus on technology education to boost productivity.
The News Corp survey said missing tax incentives and a lack of tech-ed are holding the nation back.
The corporate heavyweights said business, government and the education system all had a role to play in boosting innovation and transforming the economy.
The survey was undertaken ahead of an upcoming Government innovation statement.
Telstra boss Andrew Penn said STEM (science, technology, engineering and mathematics) capabilities and entrepreneurial skills were the key to enhancing economic prosperity.
The upcoming government statement will reportedly include new or modified tax concessions to support local start-ups, which Antony Cahill - National Australia Bank's group executive, product and markets - said would be "a springboard to encourage the next Facebook or Google to be formed in Australia".
But the CEOs said the Government would be wise to find ways of boosting commercialisation for innovations developed in Australia as well, by focusing on the STEM education that drives it.
Commonwealth Bank chief executive Ian Narev told News Corp that the CBA would be "looking for indications that the government understands the importance of innovative big businesses".
"While entrepreneurial start-ups will be a critical part of Australia's success, and deserve significant support, big businesses that overcome legacy challenges and innovate successfully have the immediate resources, customer bases and supply chains to have a major impact quickly," Mr Narev said.
Telstra recently made a submission to the Government with some strong suggestions for priority areas of innovation focus.
"These areas of focus include supporting start-ups, enabling collaboration, building Australia's STEM capability and entrepreneurial skill base, and the need for the government to be in itself an exemplar of best-practice innovation standards," Mr Penn said.
Google Australia and New Zealand chief Maile Carnegie backed the call for a focus on education too, saying a new national digital technologies curriculum must be implemented.
Ms Carnegie said it was "a critical step in preparing young Australians to become the innovators of the future".
Business Council of Australia (BCA) president Catherine Livingstone recently told a meeting of members that tertiary education reform was a "doable" action that should be included in the innovation statement.
Biopharmaceutical firm CSL's chief scientist Andrew Cuthbertson said his company wanted policy measures to focus on commercialisation of Australian research because "too often, our discoveries stagnate or go offshore at a very early stage where they are commercialised with very little return to Australia".
Deena Shiff, a director of tech firm Citadel Group, said any new ways of investing in universities and research for commercialisation "needed to be carefully thought through" to engage with the new wave of small-to-medium enterprises.