Sport study shows advertising infection

Print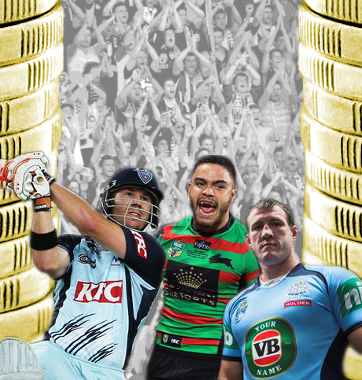 Australian researchers have exposed a potential dark side to sports supporters' apparel.
Many parents buy their kids the official jersey of their favourite team without a second thought, but aside from willingly giving free advertising to a myriad of sponsors, the study shows they could be conditioning children to recognise and respect alcohol and gambling brands as well.
A team from Deakin University and the University of Wollongong have investigated the extent to which children can match shirt sponsors with the correct sporting team, whether they associated some types of sponsors with certain sporting codes, and if age influenced their recall of sponsor brands and teams.
They found:
Children as young as five are able to match teams with the correct jersey sponsor
Alcohol and gambling sponsors are more highly associated with the National Rugby League
Kids aged 9—12 years old are likely to correctly identify team sponsors
"If building brand awareness in the next generation of consumers is the intention of the junk food, alcohol and gambling industries then it looks like it may well be working," said researcher leader, Deakin's Associate Professor Samantha Thomas.
"The results of this study suggest that sponsor promotion during matches is contributing to increased awareness amongst children of unhealthy products.
"Australian sport is saturated by the promotion of these products and is particularly common on player jerseys.
"At a time when junk food, alcohol and gambling are major contributors to poor health and social outcomes in this country, Australian sporting codes should be looking to reduce the number of unhealthy sponsorship relationships."
Other results from the study showed that over three quarters (77 per cent) of the children were able to identify at least one correct shirt sponsor.
The children also associated alcohol and gambling brands more highly with the more popular sporting code, the National Rugby League, compared with the Victorian-based Australian Football League.
Even when the children chose the wrong sponsor for a team, they were more likely to choose from one of the junk food, alcohol and gambling categories.
Age was found to have an effect on the number of shirt sponsors correctly recalled with 9 - 12 year olds more likely than 5 - 8 year olds to match correctly.
Of the children's top five most liked brands, four were junk food brands, while one in five selected either an alcohol or gambling brand.
"This study suggests that sporting team sponsorships may be contributing to a consumer socialisation process whereby children, through repeated and sustained exposure to unhealthy commodity brands during professional sporting matches, begin to see them more favourably and whereby these brands are normalised as part of everyday life," Associate Professor Thomas said.
"While there is some regulation that protects children from the marketing of unhealthy products, these findings suggest that they do not go far enough as children are still exposed to and recall these sponsorship relationships."