Sector calls to save TAFE

Print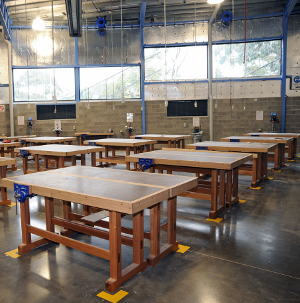 Operators say TAFE is on the brink of collapse, with the system in critical decline.
TAFE courses have been cut across the country, campuses are closing and enrolments are down 25 per cent in the past five years.
The proportion of vocational students educated at TAFE has been in decline for the past decade.
TAFE taught 81 per cent of publicly funded students in 2009, but that share had declined to 50 per cent by 2015.
Meanwhile, private providers taught just 15 per cent of publicly-funded vocational students in 2009, but 46 per cent by 2015.
The Federal Government is moving to reduce the flow of public loans to private colleges, which rose significantly under Labor, but the public TAFE system appears unlikely to get back to its previous position of dominance.
With reduced funds from the Commonwealth, state governments say they are unable to justify running expensive courses with low enrolments.
New South Wales saw a 35 per cent reduction in its TAFE workforce between 2010 and 2016.
Victoria's TAFE workforce has dropped 44 per cent, Queensland's declined by 25 per cent and South Australia lost 17 per cent in recent years.
Vocational training expert Leesa Wheelahan says the private sector has moved into the most profitable areas.
"Private providers have mushroomed, have grown exponentially, have made monstrous profits, and have colonised areas that can be taught very cheaply," Dr Wheelahan told the ABC.
"So they've cherry-picked the areas where it's cheapest to teach, leaving TAFE to teach the most expensive areas."
The Federal Government is winding back public loans to private colleges, and set up a $1.5-billion fund to address the decline in apprenticeships.
But TAFE has been damaged by ongoing budget cuts of hundreds of millions of dollars.
"That had a massive effect on all parts of TAFE delivery," said Andrew Williamson from the Victorian TAFE Association.
The Australian Education Union said sector-wide cuts had greatly reduced trust in the TAFE system.
"There is a crisis by any measure in the system," Australian Education Union Federal TAFE secretary Pat Forward said.
"It is a serious crisis and frankly it is an existential crisis. Unless there are serious attempts now to address what is happening, the system will not continue in its present form."