Robot surgery centre launched

Print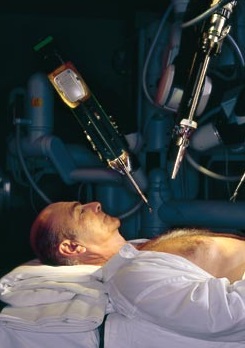 Sydney's Royal Prince Alfred Hospital (RPA) has opened Australia's first robotic surgery training centre.
The facility will teach surgeons to use remote-controlled robotic arms that can perform complex procedures with great precision in minuscule working areas.

The machines have been used for several years in Australia for procedures including prostatectomy and mitral valve surgery for heart failure patients.

But Australian surgeons have had to travel overseas, usually to the US, to develop their skills until now.

The extra expense and effort have driven up the cost of robotic surgeries in Australian private hospitals, something the new facility is intended to help reduce.

The robot used to train Australian doctors at the Sydney institute costs close to $4 million.

A robotic surgery symposium in late June will discuss proposals for a national register for surgeons trained in robotic treatments, and potential changes in fees for the procedures.