QLD union gets desk-level access to new blood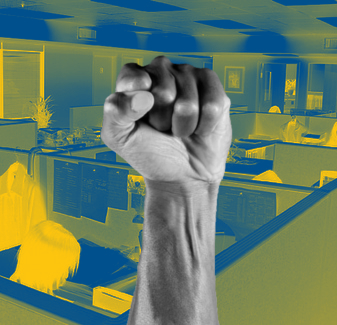 Reports say Queensland's public sector unions are moving "desk to desk" and "floor by floor" through government offices to recruit new workers.
Internal briefing notes allegedly obtained by the media this week say unions are now "at the centre of the employment relationship" in Queensland's public service.
Reporters have published details from a series of briefing notes on the Labor Government's revived Union Encouragement Policy (UEP).
The notes were sent to the Transport and Main Roads (TMR) director-general Neil Scales, obtained by the ABC under Right to Information laws.
The notes show that in May, Mr Scales was told unions were champing at the bit to get the UEP going, even before the legislation passed Parliament in June.
"The Together Union have been repeatedly agitating for TMR to alter our position on Right of Entry since Thursday 14 May, the day after the release of the UEP," the briefing note said.
"The unions are seeking our permission for open access."
Open access allows desk to desk visits from union officials to individual TMR employees in TMR workplaces.
"The Bill also proposes to insert certain clauses which will result in unions being placed at the centre of the employment relationship."
TMR wanted to hold off the union entrances until the Bill passed, but the Office of Fair and Safe Work Queensland explained the implications.
"Full access, or desk-to-desk walkthroughs, is what the policy prescribes," Brian Feldman, Director of Public Sector Industrial Relations, told senior managers at TMR.
That was after Together Union organiser Jeremy Hore emailed TMR's Employee Relations office to note the passing of the enabling legislation.
"I'm just wanting to notify that I'll be in attendance at Transport House in Fortitude Valley tomorrow the 10th of June to go desk to desk and speak to members," he wrote.
"Service delivery, of course, will not be unduly impacted," fellow Together Union organiser Sean Waugh added.
Queensland Treasurer and Industrial Relations Minister Curtis Pitt said he Government had to re-empower the unions.
"This policy was introduced in 2000 and worked well for 12 years before Campbell Newman and the LNP abolished it," he said.
"All we're doing is restoring the status quo.
"It's a positive, practical policy that allows union reps to meet with their members in the workplace and to encourage other workers to join a union if that's what they choose.
"The previous LNP government went way too far in stripping away workers' rights and entitlements, and we make no apology for restoring fairness and balance to our workplaces.
"Government workers are free to decide for themselves if they wish to join, or not to join, a union."
Shadow Attorney-General Ian Walker said it was nothing less than an "invasion of privacy".
"During the debate in Parliament we were certainly told there would be reasonable access to the workplace but it was portrayed as a very modest thing - that unions would be able to go to a workplace, sit in a lunch room, and have people come and see them if they wished," Mr Walker said.
"I think what this shows is a very intimidatory process by the union.
"If I was a public servant sitting at my desk and without warning a union rep approached and wanted to talk about union membership to me, that's going well beyond where things should be."
Before the UEP was put back in place, union delegates were given a meeting room in which interested employees could visit them.
The UEP will also see paid industrial relations leave restored.
Additionally, all new employees will be given a union application form, while the details of new employees will be passed on to unions as well.
The UEP bill require union delegates to not unduly disrupt service delivery or work requirements, and puts some areas off-limits, such as the Cabinet Liaison Office (for confidentiality reasons) and the state's Harbour Masters Stations (due to safety concerns).