Private trainers pulled apart in ASQA inquiry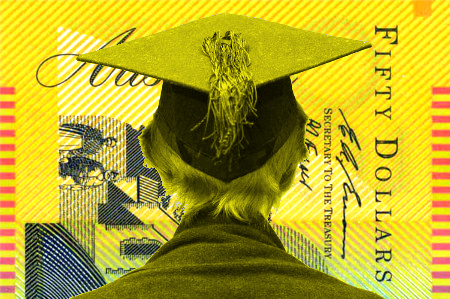 A review by the Australian Skills Quality Authority (ASQA) says two-thirds of the private training providers it audited have serious problems.
ASQA – a government training industry watchdog – undertook an investigation into 21 private companies following a steep rise in student complaints.
Most of the students' concerns centred around VET FEE HELP – a HECS-style student loan for private diplomas.
Reports of VET FEE HELP rorting are rife, with claims that dodgy providers are rushing to sign people up (sometimes without their knowledge) to courses so that the schools can receive the government loan money.
The report released by the watchdog found vocational education training costs state and territory government $5.9 billion in 2014-15.
That included $1.8 billion of Commonwealth money that was meant in part to fund VET FEE HELP.
Of the 21 companies investigated, just seven were found to be fully compliant, eight had issues that ASQA says must be addressed by imposing new conditions.
Five training providers are still under investigation, but already one outlet - Unique International College Pty Ltd - has had its registration cancelled.
Schools included in the investigation were: Holmesglen Institute, Cornerstone Investment Aust Pty Ltd (Australian Institute of Commerce and Language, Empower Institute), Study Group Australia Pty Ltd (ACPE Academy, Martin College, Australian Institute of Applied Sciences, Embassy English), College of Creative Design and Arts Pty Ltd (College of Creative Design and Arts, Keystone College), Australian Institute of Professional Education Pty Ltd (Aipe, Australian Institute of Professional Education, Studyonline, Study Connect).
The authorities took a deep look into the activities and services of private training giants Evocca College and Careers Australia, which have taken hundreds of millions of dollars in federal funding but are also the subjects of widespread complaints.
Both Evocca College and Careers Australia were among the eight companies that can only continue to operate under new conditions.
The ASQA report found Evocca to be operating in "non-compliance with the Standards regarding the RTO's assessment system"
It criticised Evocca for "the accuracy of its marketing, and its complaint and appeals policies and procedures".
While Careers Australia was found to be making changes that brought it into compliance, "ASQA considers it necessary to monitor the implementation of these changes", the report said.
ASQA says it will both Evocca and Careers Australia to ensure the comply with their new conditions.
Evocca has issued a statement saying it was now pleased to be considered compliant.
"We look forward to continuing to provide ASQA with any information that it may request," said Craig White, Evocca chief executive officer.
"We fully support the various legislation and initiatives that have been and will be put in place that will assist in ensuring a quality regulated industry for students."