Plans slowing on Uni/High School co-location

Print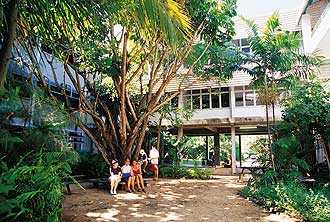 The James Cook University will not let go of plans to build a high school at its Townsville campus, despite the Queensland Government rejecting the idea.
It comes after the newly-elected Newman Government last year put forward funds for a feasibility study, which has now been conducted and found that costs and risks outweighed the potential benefits.
The study by the Education Department said it would negatively affect the viability of nearby schools, but the State has not entirely ruled out revisiting the idea.
JCU Vice-Chancellor Sandra Harding says there is still some interest around the campus: "Certainly I've had approaches from others who may be interested in prospering a private school co-located with the university... now I don't know whether that's going to happen and I don't know really where there would be a view if that's any more feasible than a state school at this point of time but look, we're really keen and we'll be exploring all avenues to make sure we can do this."
Ms Harding said she enjoyed, "the idea of being able to leverage off the wonderful facilities that we have at the university, to bring those into the school curriculum would have been a wonderful and unique opportunity in Townsville certainly and really a rare opportunity in regional Australia."
JCU has long been a world-leader in Marine Biological studies, the uni has also recently been boosted by the injection of mining company funds into its geological and engineering faculties.