New money named for inflating the language

Print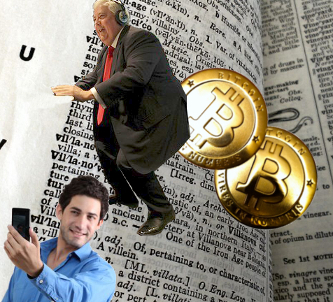 'Bitcoin' has been named word of the year by the Australian National Dictionary Centre (ANDC), marking the mainstream landing of the decentralised digital currency.
Bitcoin is a new form of currency - not backed by any commodity or government - which allows transactions to be performed without passing through an established bank or financial system.
The currency has made headlines recently with its meteoric rise in value, leaping from a price of a few cents per coin a couple of years ago to over $1,000 for a single Bitcoin today.
For many, it is the bank-less key to the future of trade. For some it is an interesting experiment, treated with scepticism by viewers expecting it to fail.
Coins consist of a large string of encrypted information which is verified against the string of Bitcoins preceding it.
Coins can be 'mined' by dedicating large amount of computer processing power to constant attempts to decrypt particular parts of the sequence. The extraordinarily complex process gets more difficult each time a coin is uncovered, and will eventually stop at a finite point – instituting the value of the coins.
The word was picked as word of the year ahead of 'FOMO' (fear of missing out), 'microparty', and 'twerk'.
The ANDC's Dr Amanda Laugesen says "The Federal Election results saw the word microparty come to prominence in reference to small political parties often based around a single issue."
But the real event was Clive Palmer's solidification of 'twerk' as a key addition to the lexicon.
"Twerk is to dance in a sexually provocative manner involving thrusting hip movements and a low, squatting stance," Dr Laugesen said.
"We saw the term popularised by [singer] Miley Cyrus and the American VMA Awards, and in Australia by Clive Palmer during the election campaign."
The international word of the year is 'selfie'; a photographic technique which has been driven to prominence by world leaders such as Barack Obama and former Australian Prime Minister Kevin Rudd.