NASA makes NT launch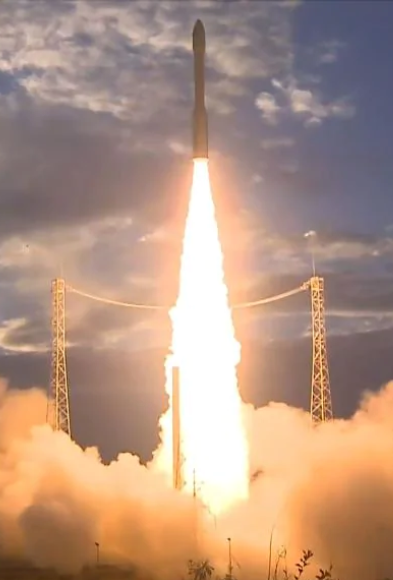 NASA has launched its first rocket from the new Arnhem Space Centre in the Northern Territory.
After some rain and wind delays, a suborbital sounding rocket took off this week, marking the first commercial space launch in Australia's history and NASA's first rocket launch from a commercial spaceport outside of the United States.
The rocket is on its way to a position about 300 kilometres above the Earth, where it will conduct astrophysics studies that can only be undertaken in the Southern Hemisphere, NASA says.
US Consul-General Kathleen Lively said the launch would reaffirm the "deep partnership" between Australia and the US.
"Our collaboration is furthering space exploration, to improve our understanding of the solar system and the universe," she said.
"Today marks a moment that will go down in history for the United States and Australia, in our space collaboration efforts."
Northern Territory Chief Minister Natasha Fyles said it was an "extremely proud" moment for Australia.
"Here on Yolngu land, young Territorians can look up at the sky and know what can be done," Ms Fyles said.
"When we see the oldest living culture combining with the science of space, as we have here, it's something we can all reflect on and be very proud."
NASA has two more launches scheduled to take place during June and July this year, with the next expected to blast off on July 4.
The rockets will be used to investigate heliophysics, astrophysics and planetary science phenomena from a new perspective.
Traditional owners, the Gumatj people, were consulted over the campaign. NASA has committed to collect and remove all spent motor cases and payloads when the launches are finished.
Arnhem Space Centre (ASC) is 12 degrees south of the equator on the Gulf of Carpentaria and "the only commercially-owned and run multi-user equatorial launch site in the world", according to site operator Equatorial Launch Australia (ELA).
"The ASC offers Australian space businesses and international rocket and satellite companies a unique opportunity to launch from a site which provides cost-effective access to virtually any orbit they desire," ELA chair Michael Jones says.
Russell Shaw from ELA says each rocket has a "specific mission" that is only possible in the climate of the Southern Hemisphere.
"They will be looking at particular transmissions coming out of those particular planets or suns which are closest to our solar system and then the other one is around the interstellar rays," Mr Shaw says.
"We plan to further develop the Arnhem Space Centre in the next couple of years to be capable of launching more than 50 launches per annum."
Australian Space Agency head Enrico Palermo says the launches will "further cement" Australia's reputation as "a nation that global space players want to do business with".
"The growth of launch-related activities in Australia is helping to open up the full value chain of space activities, which will grow the sector and create new businesses and job opportunities here at home," he said.