Historic lessons in digital form

Print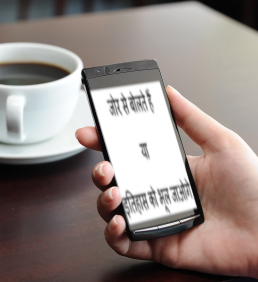 An ancient and beautiful language has been brought into the digital age, with the release of a Sanskrit e-book.
Sanskrit is the language of classical Hindu and Buddhist art, thought, music, dance, literature and faith.
The language has now been published in the form of an electronic textbook, called 'The Joy of Sanskrit', so students can access it on Android and Apple mobile phones, tablets and other devices.
"I call the e-text 'professor in my pocket' – the idea being that students have access to their professor all the time," says researcher Grazia Scotellaro from the ANU College of Asia and the Pacific's Digital Learning Project.
"One of the biggest problems with online and digital learning is the anonymity of learning – you don't see the person who is teaching you. But, with this you see your teacher every day," she said.
The Australian National University is one of the only universities in the English-speaking world teaching the language.
"The students also have access to the materials that they need to learn anytime they want."
The e-text is embedded with multimedia including videos and sound recordings.
It is available for free download from ANU eTEXT.
ANU is also developing e-texts for Tetum, the language of Timor-Leste, and Vietnamese.