Harsh words and hand-outs on Close The Gap day
Last Thursday was national Close The Gap day, and while events were on around the country to address Indigenous inequality, the Prime Minister's top Indigenous advisor had some harsh words for his boss.
Close the Gap Day was celebrated nationwide, with events of all types organised to highlight the plight of Australia's first people.
But the Prime Minister's 2015 Closing The Gap report showed little progress had been made on almost all of the Government's key objectives: increasing Indigenous life expectancy; reducing child mortality rates; ensuring access to education and improving school attendance; boosting literacy, numeracy and Year 12 completion rates; and creating better Indigenous employment outcomes.
Adding insult to inaction, Tony Abbott has drawn broad criticism over his description of Indigenous Australians living in remote communities as a "lifestyle choice".
Abbott has been slammed for ignoring one of the most basic and fundamental elements of Indigenous culture – the deeply spiritual connection with ancestral lands.
The chairman of the Prime Minister's Indigenous Advisory Council, Warren Mundine, has joined the chorus of condemnation for the comment.
"I said to the Prime Minister: 'You have got to understand that when you are talking about closing a community, it sends a 200-year chill down the spine of Aboriginal people'," Mundine told News Corp reporters after an hour-long meeting at Parliament House this week.
"He has to understand exactly what those words are — they may have been innocently put, or they may have been a misjudgment, but he has got to understand and learn and accept what that means."
Mr Mundine said the Mr Abbott did not apologise.
"He didn't apologise, I didn't ask for an apology; I was more concerned that the words detracted from the real issue... but he acknowle­dged that he needed to communicate better.
"There is no argument he does have foot-in-mouth disease."
Mr Abbott has repeatedly defended his disturbing wording, which he chose in reference to West Australian Premier Colin Barnett's threat to close around 150 of the state's 274 ­indigenous communities in the wake of cuts to municipal services funding.
The people of the Fitzroy Valley in the far north Kimberley region will use Close The Gap day to demonstrate against remote community closures.
About 3500 Aboriginal people live in more than 30 remote communities in the valley and in Fitzroy Crossing, where the march is scheduled.
The Federal Government is preparing to introduce its latest injunction on Aboriginal life - a new debit card that restricts how much money can be spent on alcohol, as well as other limitations.
Mr Mundine said there would be some challenges with the rollout of the card.The Government took the idea for the cards from an Indigenous employment review that mining billionaire Andrew "Twiggy" Forrest provided to the Government last year.
"I did have concerns about it and in some areas I still do have concerns about it, but the attitude of the advisory council is that if the Government is going to go with this process we need to ensure it's non-discriminatory across the board so that people are not disadvantaged in the process," he told the ABC.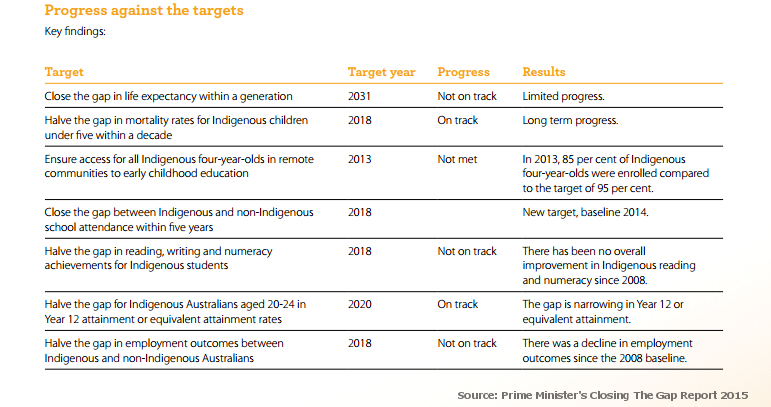 Meanwhile, the National Rural Health Alliance (NRHA) has spoken on behalf of its 37 rural and remote health bodies to address Closing the Gap in health status between Australia's Aboriginal and Torres Strait Islander people and non-Indigenous Australians.
The NRHA says an internal group, led by one of the NRHA's Indigenous member bodies and consulting with other Indigenous groups, will propose actions that might be included in a best practice guideline or framework to go above and beyond commitments made in the organisation's Reconciliation Action Plan.