Expert warns of 'fire age'

Print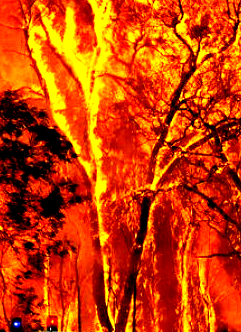 Australia could be heading into a new 'pyrocene' fire age.
Fire historian Stephen J Pyne says humans are pushing the planet to a new age of fire he dubs the 'pyrocene', or the opposite of an Ice Age.
"I think Australia is on one hand part of the leading edge of this new fire epoch, the Pyrocene," he said.
Mr Pyne, an emeritus professor at Arizona State University, says Australia has been a fire continent for millions of years, but recent major seasons mark a new era.
"The Black Saturday Fires seemed to hit Australians as a special trauma, not just a tragedy but a trauma, almost as if it was a terrorist attack [with] the source of the terror coming out of the very land you live on," he said.
"That seemed different, in a way qualitatively different, than what had happened before and then last summer's fires were just so overwhelming and went on and on forever."
On March 2 this year, for the first time in 240 days, not a single wildfire was burning in Australia.
Mr Pyne says this is not the only positive Australia can look to.
"Australia is a real fire power, not just because you have lots of fires and lots of explosive fires from time to time, but you have an extraordinary fire culture," he said.
"You've got a political engagement [with the future of fire] I can't think of any other place in the world that has it. You also have world-class science."