Dark matter lab coming

Print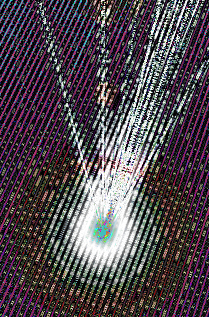 A new lab could make regional Victoria a hot spot in the hunt for dark matter.
Located 1km underground in the Stawell Gold Mine, the first dark matter laboratory in the southern hemisphere is preparing to join the global quest to understand the nature of dark matter and unlock the secrets of our universe.
The Stawell Underground Physics Laboratory (SUPL) is set to be the new epicentre of dark matter research in Australia.
Dark matter has been eluding scientists for decades, the project's lead researcher Professor Elisabetta Barberio from the University of Melbourne says experts are drawing closer to the mysterious substance.
"We know there is much more matter in the universe than we can see," Professor Barberio says.
"With the Stawell Underground Physics Laboratory, we have the tools and location to detect this dark matter. Proving the existence of dark matter will help us understand its nature and forever change how we see the universe."
With stage 1 now complete, the lab is ready to host the experiment known as SABRE South, which aims to directly detect dark matter, which will be installed over the coming months.
SABRE South will run in conjunction with the complementary SABRE experiment taking place in Laboratori Nazionali del Gran Sasso, Italy.
These experiments are designed to detect WIMPs (Weakly Interacting Massive Particles), one of the likely forms for dark matter particles.
Professor James McCluskey, Deputy Vice Chancellor (Research) at the University of Melbourne, says that such global partnerships are key to advancing the frontiers of knowledge.
"Research which is needed to address the great unanswered questions – such as 'what is dark matter?' – is nearly always done in collaboration," Dr McCluskey says.
"Working with our partners and sharing our collective knowledge and expertise, the Stawell Underground Physics Laboratory will facilitate experiments which are critical in the global search for dark matter.''
The Australian and Victorian governments each gave $5 million in funding for the building of the Stawell Underground Physics Laboratory, and this funding was boosted by the Australian Research Council awarding a $35 million grant for the development of a Centre of Excellence for Dark Matter Particle Physics.
The laboratory was constructed by Ballarat based H. Troon, using many local contractors throughout the build.
The Stawell laboratory will be managed by SUPL Ltd., which is co-owned by the University of Melbourne, ANSTO, the Australian National University, Swinburne University of Technology, and the University of Adelaide.
More details are available here.