BCA wants skills boost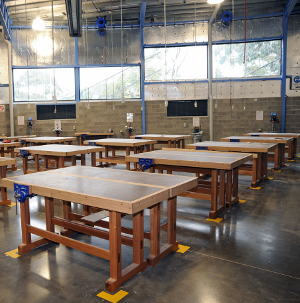 The Business Council says more funding will be needed to avoid massive skills shortages.
Experts say up to 1 million jobs will be created in Australia in the next five years, but BCA chief Jennifer Westacott says the country does not have enough skilled workers to fill them.
The Federal Department of Employment predicts Australia's ageing population, major infrastructure works, rollout of the National Disability Insurance Scheme (NDIS) and taste for eating out will drive many of the new jobs.
With a large proportion of those jobs requiring vocational qualification, massive funding cuts to the vocational education and training (VET) system may leave it unable to meet that challenge.
"We will have to spend billions to put [the VET sector] back together," Ms Westacott said.
"We'll have another skills shortage then we'll have another debate about bringing in foreign workers, or we will just lose new businesses and new activities to other countries where they have a more trained and skilled workforce," she told the ABC.
"This is urgent. Go and look at other countries, go and look at Germany, go and talk to any senior business person in the United States, particularly the people in the big technology companies, and they'll say to you it's the vocational system we should be focusing on now."
Professor Peter Noonan, a tertiary education policy expert from Victoria University, is worried too.
"Between 2014 and 2015, state governments took $1 billion out of vocational education and training," he said.
"The Commonwealth has more or less maintained what it puts in but the states have really dropped the ball.
"Enrolments are going down but the most regrettable thing is that fees for students are going up, and in some cases students are paying thousands of dollars up front and they can't get an income contingent loan like they can if they're going to university."
Figures from the National Centre for Vocational Education Research show VET funding declined by 27.3 per cent in 2016, while state governments have cut their funding 13 per cent.
Unions say the numbers reveal "a system in crisis".
"This is no longer a question of the system struggling, it's not a bit of a problem around the edges, this shows a fundamental and very significant decline," says the Australian Education Union's federal TAFE secretary, Pat Forward.
"The damage that this is causing in the system is really being shown every day."
But the Federal Government says its cuts to the student loan scheme VET FEE-HELP have been successful.
"The figures show the effectiveness of the steps taken by the Government in 2015, and again in 2016, to curb unsustainable growth, address unscrupulous behaviour, and protect students and taxpayers," Assistant Minister for Vocational Education and Skills, Karen Andrews said.
The AEU said it was a "rubbish" explanation of the figures.
"If you just look at the Government funding without counting VET FEE-HELP, you can see that the overall funding has declined at any even more significant rate than the VET FEE-HELP," she said.