Audit slams TAFE SA

Print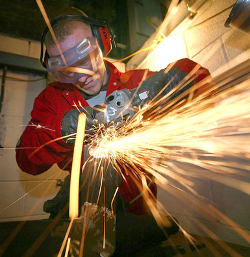 A scathing audit of TAFE SA has revealed substandard courses and led to calls for management to resign.
The audit by an Australian Skills Quality Authority commissioner deemed 14 courses to be substandard, all of which have now been suspended.
All 16 of the courses randomly selected for review were found to have problems.
Around 800 students will have to be reassessed and may need to engage in further study to receive their certificates.
In the meantime, TAFE cannot enrol students in 14 of the 16 courses reviewed, including;
Cert III in Automotive Refinishing Technology
Cert III in Motorcycle Mechanical Technology
Cert II in Meat Processing (abattoirs)
Cert III in Commercial Cookery
Cert III in Individual Support (ageing)
Cert IV in Leisure and Health
Cert III in Hairdressing
Diploma in Visual Merchandising
Diploma in Building and Construction
Cert III in Plumbing
TAFE SA chief executive Robin Murt has resigned, but SA Education Minister Susan Close wants chair of the TAFE SA board Peter Vaughan to go too, saying she no longer has confidence in him.
"Not only is it serious for the students who are currently enrolled or had hoped to be enrolled in those courses, but it also goes to the confidence that people can have in the quality of TAFE," Ms Close said.
"I am deeply concerned that we need to do something very different to lift TAFE's standards and also to restore public confidence.
"That means change at the top."
Shadow Education Minister John Gardner said the findings were a disgrace.
"To find out that hundreds of students, nearly 1,000 students are going to be affected, their courses losing accreditation — this is a disgrace," he said.
Interim management will run the training body while an independent review is undertaken.