Students test food for space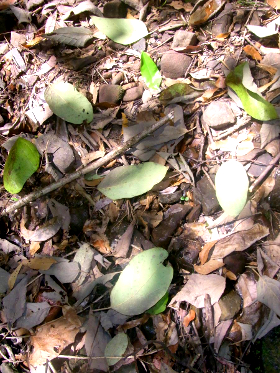 Australian schools are exploring bush foods as potential foods for astronauts.
Royal Botanic Gardens Victoria is running the "Growing Beyond Earth" Australian pilot, in which schools collect data to help NASA discover new fresh, tasty and nutritious foods for astronauts to grow and eat on the International Space Station.
Given the high nutritional content of many Australian bush foods, scientists and Aboriginal Learning Facilitators at Royal Botanic Gardens Victoria are helping students identify, grow and test bush foods in a specially designed growth chamber that replicates growth system on the International Space Station.
Local bush foods include sclerophyllous plants, which means they can grow on impoverished soils and where water is in short supply. For example, Microseris walteri (Murnong) has been used as a staple food for Aboriginals for millenia, and is eight times more nutritious than a potato. Other potential candidates include Carpobrotus rossii (Pigface) and Tetragonia tetragonioides (Warrigal Greens).
The program is a collaboration between NASA, Royal Botanic Gardens Victoria, Fairchild Tropical Botanic Garden, The Latrobe Institute for Agriculture and Food and Melbourne Archdiocese of Catholic Schools, which will extend the successful Growing Beyond Earth (GBE) program that has been running for six years in the United States.
As part of the program, students will test the potential of various plants in specially designed "Growth Chambers" that replicate the growth system on the International Space Station.
The chambers are fitted with lights and a fan, and will collect data around germination rate, plant size, edible mass, humidity, light and other variables.
In 2023, two Victorian schools, Catholic Regional College, Caroline Springs and Mount Lilydale Mercy College will be taking part in the pilot program.
Students from Catholic Regional College has visited the Gardens to collect their special growth chamber and commence the program, which includes education sessions by Gardens experts about plant data collection and Aboriginal bush foods.
The program originated with Fairchild Botanic Garden in Florida, USA and is now in 350 middle and high schools across the US, with more than 40,000 students participating and more than 180 varieties of edible plants tested.
Students in the USA have successfully identified foods such as "Dragoon Lettuce" and "Extra Dwarf Pak Choi" that have gone on to become a part of the "Veggie" program at Kennedy Space Centre and on the International Space Station.