Gaps open in severe shortage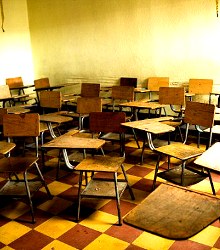 A regional teacher shortage could increase disparity between students, experts warn.
School staff shortages, particularly in rural, regional and remote areas, will see vulnerable students fall behind, exacerbating the disparity between students over time, according to psychologists.
"There's a group of students that have more vulnerabilities, so that could be a learning disorder, a trauma in the home space or it could be retention problems," Australian Psychological Society president Tamara Cavenett has told the ABC.
"Those kids will fall further behind while the other kids will continue on the same trajectory.
"And the greatest issue is that it creates that disparity between those who are more vulnerable and those who are not."
Regional schools have always found it tougher to find and retain teachers, but because of COVID-19 and a particularly virulent flu season, schools are struggling even more to find relief teachers to fill the gaps.
Australian Education Union president Corenna Haythorpe says it is a "major crisis".
"Two weeks ago a principal in regional South Australia told me that 18 of the 32 staff members were absent due to either COVID or flu," she said.
"Without a doubt it's problematic for those [regional] children."
Schools are scrambling to respond, with some high schools giving students one day per week to study at home without teacher supervision, while others are looking to hire university students - not yet registered as teachers - to take classes.
Advocates say these may be effective stop-gaps, but the education sector needs to find longer-term solutions soon.