CSIRO Postdoctoral Fellowship in Printed Sensors - [Archived Advertisement]
First listed on: 10 June 2019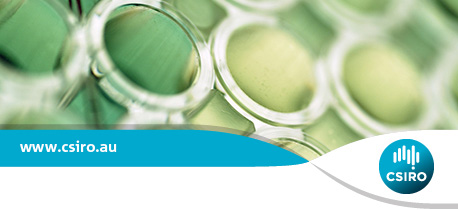 CSIRO Postdoctoral Fellowship in Printed Sensors
The Opportunity
• Work on solid-state sensor and analytics technology - SENSEI sensors
• Prestigious Postdoctoral Fellowship on offer - kick-start your research career
• Join CSIRO for this exciting postdoctoral fellowship!

The Position

CSIRO Early Research Career (CERC) Postdoctoral Fellowships aim to develop the next generation of future leaders of the innovation system.
As a postdoctoral fellow, you will join CSIRO Mineral Resources and work within our Electrochemical Processing team that is investigating recent advances in printing technologies such as screen and inkjet printing as a mechanism for mass producing low-cost printed electrodes in order to realise cheap and portable electrochemical sensors for real-time environmental monitoring.
You will have an opportunity to work with our collaborators in CSIRO Manufacturing to deliver the next generation solid-state sensor and analytics technology – termed SENSEI sensors.

Get ready to be a part of a multi-disciplinary team comprising of electrochemists, synthetic chemists and engineers and work with them towards solving scientific challenges and advancing sensor technology.
If you have multi-disciplinary skills (electrochemistry, synthetic chemistry and materials chemistry) to conduct cutting-edge research, then this is the opportunity for you!
Your duties will include
Under the direction of senior research scientists, carry out innovative, impactful research of strategic importance to CSIRO that will, where possible, lead to novel and important scientific outcomes.
Your primary responsibility is to work within the Electrochemical Processing Team and contribute to the development and fabrication of low-cost, flexible printed sensors. Tasks will include:
o Develop, synthesise and evaluate new materials and ink formulations for printed electrochemical sensors which allow the detection and monitoring of environmentally important analytes
o Design and print electrodes using various printing techniques including screen-printing and inkjet-printing
o Characterise the printed devices using electrochemical techniques and other suitable methods e.g. SEM-EDS, Raman spectroscopy and XRF
o Test and demonstrate the functioning devices for on-site and/or on-line monitoring of environmentally important analytes
Location: Melbourne, VIC
Salary: AU$ 83,687 – AU$ 94,679 plus up to 15.4% superannuation
Tenure: Specified Term of 3 years
Reference: 61892
To be successful you will need
Under CSIRO policy only those who meet all essential criteria can be appointed.
1. A doctorate (or will shortly satisfy the requirements of a PhD) in a relevant discipline area
Please note: To be eligible for this role you must have no more than 3 years (or part time equivalent) of postdoctoral research experience.
2. Sound knowledge of electrochemical science, including its practice in a research environment and applications such as sensor technologies.
3. A good working knowledge of material requirements for electrochemical applications.
4. Sound knowledge and research experience in modern laboratory methodologies, including materials synthesis and characterization
5. Demonstrated ability to conduct challenging experiments, solve complex experimental problems and cope with ambiguity or situations that lack clarity.
6. The ability to work effectively as part of a multi-disciplinary, regionally dispersed research team, plus the motivation and discipline to carry out autonomous research while contributing to overall team performance.
7. Demonstrated ability to analyse information and make independent, correct and timely decisions related to a defined element of the work of the project team
8. A record of science innovation and creativity, plus the ability and willingness to incorporate novel ideas and approaches into scientific investigations. Track record of adapting, creating and testing alternative solutions
9. Evidence of strong oral and written communication skills, including the ability to publish the results
10. Ability to seek and consider the ideas and opinions of others from within and outside the team to help form decisions, plans or actions.
11. Ability to recognise and make immediate changes to improve performance.

Desirable Criteria:
1. Previous experience with sensor development and testing.
2. Knowledge of printing technologies and inks relevant for sensor applications.
3. Experience with or knowledge of the commercialization of technology.
To be eligible for this postdoctoral fellowship, you will have less than 3 years (or part-time equivalent) of relevant research experience since gaining your PhD.
Special Requirements:
Appointment to this role may be subject to conditions as detailed in the Position Description
For details about who to contact and for more information please view the Position Description
CSIRO's Commitment to Diversity
We're working hard to recruit diverse people and ensure all our people feel supported to do their best work and empowered to let their ideas flourish.
Flexible Working Arrangements
We work flexibly at CSIRO, offering a range of options for how, when and where you work. Talk to us about how this role could be flexible for you. Balance
About CSIRO
At CSIRO you can be part of helping to solve big, complex problems that make a real difference to our future. We spark off each other, learn from each other, trust each other and collaborate to achieve more than we could individually in a supportive, rewarding, inclusive and truly flexible environment.
Apply Online
To apply online, please provide a CV and cover letter outlining your suitability and motivation for the role.
Applications Close
Monday 8 July, 2019 (11:59pm AEST)

Closing Date:

08 Jul 2019
Location:

VIC - Melbourne
Salary:

AU$83,687 - AU$94,679 plus up to 15.4% superannuation
Work Type:

Contract/Temp
Category:

Community/Public sector
Fellowships
Research Assistants and Fellowships