Well-rounded design brings new players to game

Print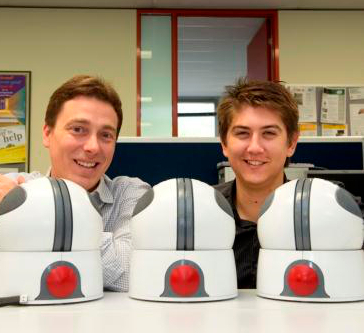 A video game controller that allows people with limited use of their hands to play the latest games has won a design award in South Australia.
Research engineers at Flinders University have created 'Orby', a device that fills the need for an easy-to-use, accessible controller for people with disabilities.
A collaborative project between Flinders University and the University of South Australia has developed a working prototype and subsequently won a silver award in the object category of the 2013 Laminex Group Design Institute of Australia SA Awards.
Designers were given a project brief to design an intuitive controller that can be used with two hands and included the ability to provide 'haptic feedback' to the player during game play. It had to be compatible with Xbox 360 games, flat surface-mounted for table or lap use, and designed to hold a single hand to either side of the device with hand straps if the child is unable to do so themselves.
The result was 'Orby', a spherical controller which ticks all the boxes.
The controller was 3D-printed and built in Adelaide by an advanced manufacturing company which specialises in commercialising medical device intellectual property.
Design student Max Hughes says the controller gave children with a disability – particularly those with sensory impairments caused by cerebral palsy – the opportunity to play computer games where they wouldn't normally be able.
"Computer games are at the centre of a lot of children's social circles and peer conversations, and are something that many children play on a daily basis," Mr Hughes said.
"But for some children it's almost impossible to use a traditional game controller due to the nature of their disability, which leaves them feeling excluded from their peer group because they can't join in," he said.