Uni's face-off for cybernetic supremacy

Print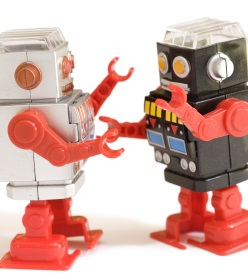 Engineering students from schools around the country will be putting their custom-built robotic companions into battle for the 2013 National Instruments Autonomous Robotics Competition.
The Competition seeks to encourage students in Australia and New Zealand to create robots which will do battle in a number of arenas. The droids will be required to demonstrate skills in navigation, object handling and obstacle avoidance.
While seemingly minor skills, the events will test a range of robotic abilities in analysing, planning and completing tasks which for a human are menial. Teams are given pre-defined kits and rules over what components they can use – stipulations to encourage creativity within mechanical bounds.
Virtually every university in the country has put its faith in a cybernetic competitor for this year's competition. Entries from 22 schools will duke it out for robotic supremacy this afternoon.
Chief contenders will be the reigning champions from Swinburne University. As the 2011 and 2012 champions and the hosts of this year's event, Swinburne will be out to defend its crown with electronic zeal.
The finals will be held at the University's Advanced Technologies Centre, Hawthorn campus, from 1 to 3pm today.
One internet commenter claimed this may be one of the last such competitions before a robot revolution reverses the rules, and highly-advanced androids compete to show-off how well-trained their humans are.
The competition in its current form will likely have a few decades to run before needing to switch the roles or rules.
More information is available from the competition website.