Uni cash crisis denied

Print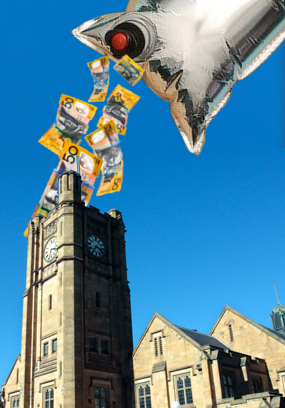 The vice-chancellor of a Group of Eight (Go8) university has broken ranks, saying there is no crisis in Australia's higher education system and there is no particularly strong case for students to have to pay more.
The Federal Government's university fee deregulation bill appears to have been taken off the table for now, leading to some speculation that the vice-chancellor is just trying to change the money-grabbing reputation of the big institutions.
University of NSW vice-chancellor Ian Jacobs has told Fairfax that higher fees are not necessary for Australia to keep its high quality university system afloat.
"Our system is the envy of the world," he told reporters.
"Fundamentally, the teaching side of university education works well."
It is a marked difference to the stance taken by other VCs from the elite Go8 crew, who have been some of the most vocal proponents of letting universities set their own fees.
Professor Jacobs' comments are backed by recent Education Department figures, which show strong financial results for most universities.
The sector recorded an overall surplus of $1.9 billion - 7 per cent of revenue.
The University of Melbourne was the leader with a surplus of $183 million. Meanwhile, Victoria University, the University of Tasmania and University of Canberra recorded deficits.
Professor Jacobs said there may be some room for tweaks in certain disciplines, but for the most part there is a good balance between private and public contributions to higher education.
"The overall funding burden for domestic students is about right," he said.
"The real funding issue is research which is not funded transparently and not to sufficient levels."
Some see it as an effort to mend the image of the big unis, adding to a speech Professor Jasobs made last weekin which he said the deregulation debate had "taken the sector down an unhelpful cul de sac".
"We have spent 18 months debating the wrong question," he told reporters at the time.
"This is the time to change the conversation to focus on getting the maximum results from our research at a time innovation is on everyone's tongue."
Professor Jacobs said the Federal Government had spooked university vice-chancellors into supporting fee deregulation because it was coupled with a 20 per cent funding cut in the 2014 budget.
"The Group of Eight vice chancellors had very few options 18 months ago," he said.
"Deregulation was really the only option available and they embraced it at the time.
"I'm very confident I'm well aligned with my colleagues in the Group of Eight."
Professor Jacobs view still contrasts with some of his peers, including that of University of Sydney vice-chancellor Michael Spence, who wants the government to keep fee rises in the mix for new higher education policies.