Tiny islands to rally big call on climate

Print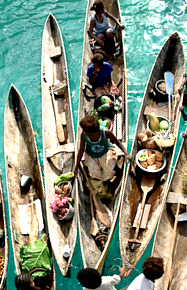 Once again, some of the world's smallest nations (also those under most threat from a shifting climate) are rallying together to save their land.
The president of the Seychelles says small island nations must unite in a campaign against climate change, or risk being swallowed-up by the sea.
The call came at the opening of a two-day summit of the Alliance of Small Island States (AOSIS) - a group representing small island states and low-lying coastal countries.
The group has been formed to raise a united voice at upcoming global climate talks in Peru this December.
"Too often the world has chosen to ignore us; too often we are treated as bystanders," Seychelles president James Michel told the conference.
"Let us be heard on every beach and every roadside - let us be heard in Beijing, in Delhi, in Johannesburg, in London, in Moscow, in New York, in Paris, in Rio.
"Let us be heard in every village, in every town, in every city of the world; let us be heard on the airwaves.
"We cannot accept that climate change be treated as an inevitability.
"We cannot accept that any island be lost to sea level rise.
"We cannot accept that our islands be submerged by the rising oceans.
"Climate change is the greatest threat of our time... [and] we do not have the economic means to build sophisticated defences.
"We do not have the latest technology to better adapt to the problem ... nor do we have the economic might to apply sanctions on those most guilty of causing the problem.
"But we have something that is invaluable, something that is powerful: we are the conscience of these negotiations.
"We stand as the defenders of the moral rights of every citizen of our planet."
The UN climate talks in Peru next month are expected to set up a path for a December 2015 pact; pushing to limit global warming to two degrees Celsius.