Tech firms race to take the sky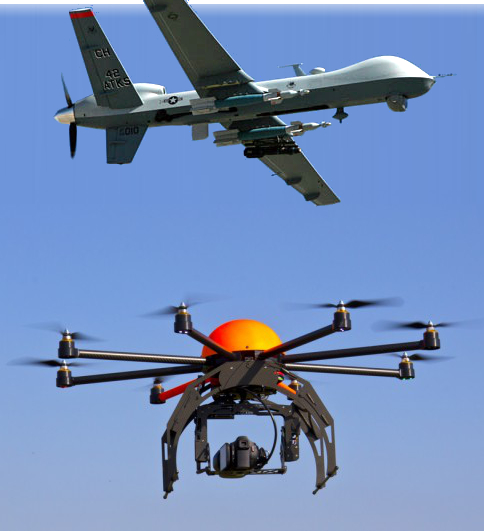 Two of the world's best-known tech firms are racing to create a system of autonomous airships that will bring the internet to as yet unconnected parts of the world.
Both Facebook and Alphabet (Google's newly-formed parent company) have registered new drone designs with the US Federal Aviation Administration.
Recent reports say Alphabet has been running secret high-altitude airborne operations at Spaceport America in New Mexico, while an American subsidiary of Facebook has been working with a prototype solar-powered drone.
While there is much excitement about the use of small-to-medium-sized drones for recreational purposes – or even for delivering packages – the equipment Google and Facebook are using is much larger, operating far above passenger jets at altitudes up to 90,000 feet for weeks or even months at a time.
The military-sized drones should be able to provide city-sized areas with internet access, even in remote and undeveloped parts of the world.
Facebook has allowed a few sneak peeks of its huge solar-powered drone called Aquila – a device with a wingspan of 42 metres capable that can share internet access with radios and lasers from an altitude of 90,000feet.
Aquila is made from carbon fibre yet still weighs over 500kg, but its designers in the UK say it should remain airborne for 90 days at a time.
Google has reportedly registered two new drones with flight safety authorities in the US too.
Codenamed M2 and B3, they weigh just 2.25kg and 900g respectively, leading many to assume they must only be prototypes or proof-of-concept designs.
But Google's plans go further than just a few new flyers.
Alphabet (Google's parent) has acquired Titan Aerospace - a New Mexico-based startup that has been testing and flying high-altitude solar-powered drones with wingspans of up to 50 metres.
After one of its experimental drones crashed in May this year, Alphabet announced Titan Aerospace would relocate to Silicon Valley to be closer to the growing Google Access team.
Google Access is the department running Project Loon - a plan to deliver wireless internet from unpowered balloons high up the stratosphere.
Report in the US say Google has been approved to run tests around March next year, which will see it trying to relay data between ground stations via aircraft flying at up to 25,000ft.
The Federal Communication Commission (FCC) say it has approved some experimental operations on the same 2.5GHz frequencies as 4G LTE mobile phone signals.
But even if the tech giants solve the technical challenges of keeping drones up for long periods while distributing data across city-sized areas, they could be brought down by a thunderstorm of bureaucracy.
Neither company has been able to get around the US Government's blanket ban on the commercial operation of unmanned aircraft.
Alphabet has reportedly applied for an exemption for its Project Wing delivery drones, but it has not been granted, and if it were it would only clear operation up to 400ft.
Google has secured a Certificate of Waiver or Authorization (COA) with NASA to test its ideas. The waiver permits flights if they can help NASA develop its automated air traffic control system for low-flying drones, but again does not apply to drones flying far above other aircraft, as both companies' plans require.