TAFE failings outlined

Print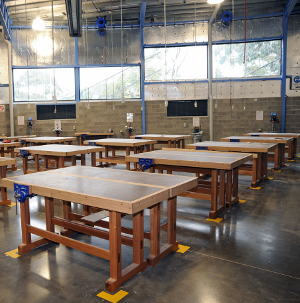 TAFE SA had a "single-minded focus on cost-cutting", according to a review.
The independent report was commissioned in the wake of a damning federal audit last year that highlighted major problems with TAFE SA's assessment practices in 16 courses.
The earlier report left TAFE SA in chaos, with questions as to whether many students would be able to graduate.
The Australian Skills Quality Authority (ASQA) has lifted the threat of suspension, saying TAFE has now "expended significant effort and resources in order to successfully achieve compliance".
But minor non-compliances remain, which ASQA has given TAFE SA 20 days to rectify.
Another ASQA audit is expected this year.
The most recent review said ultimate responsibility for TAFE SA's failings lay with the organisation's board.
The board was found to have embraced a cost-cutting target set by the Weatherill government in its 2015 "WorkReady" reforms, which led TAFE to lose "sight of the importance of quality".
"TAFE SA's approach to cost reduction was narrow and short-sighted," the report found.
"The board, in particular, lost sight of the importance of quality both as an end and a means.
"The board's single-minded focus on cost-cutting … meant that quality issues were deprioritised."
Despite the cost cutting, TAFE was shown to have actually become less efficient, delivering fewer graduates.
"The amount of training declined overall and costs per hour did not improve (In fact, TAFE SA's efficiency has steadily worsened since 2013)."
The Weatherill government sacked TAFE's chairman following last year's audit, but the new Marshall Liberal government says it will now dissolve the rest of the board.
The report suggests the new government consider keeping at least two board members for continuity.