State starts Gonski stoush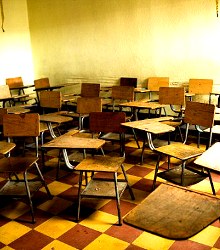 The Federal and NSW Government are trading blows over education reforms.
NSW Education Department head Mark Scott this week emailed principals to tell them that NSW schools would receive an extra $820 million in the federal budget, but "there remains a shortfall from our existing agreement of $1.8 billion".
He claimed figures for NSW came from a Federal Government assumption that each school would ­receive the same increase, but the state took the Gonski principles to mean "every school receives a different level of funding to reflect the needs of their school community''.
Federal Education Department head Michele Bruniges has written to Mr Scott to correct "a number of factual ­inaccuracies''.
"The funding estimates do not assume the same increase for all schools as you have incorrectly stated in your letter,'' Dr Bruniges wrote, according to The Australian.

"Indeed, the schools with greatest need that are the furthest behind will receive the fastest increase in funding.''
The NSW Teachers Federation calculates the state's public schools will lose $846 million over the next two years under the proposed changes.
But Federal Education Minister Simon Birmingham said "we are going to deliver an extra $3.8bn into NSW schools over the next 10 years", and there is "no chance'' that NSW public schools would be worse off.

Senator Birmingham said the union was engaging in "scare tactics'' to "prop up Labor's campaign''.
The union's figures come from the difference between what NSW would have received in 2018 and 2019 under the final two years of Labor's Gonski model, compared with the new funding model.
The union says that 150 schools across the state will lose more than $1 million over the next two years.