Speaking of language in Adelaide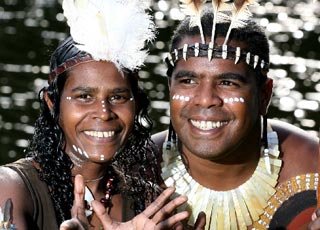 Before European settlement Australia was home to hundreds of languages belonging to the widespread and diverse aboriginal cultures, now teams are working to preserve what's left of the dwindling tongues before the important piece of the nation's heritage disappears.
An international conference being held at the University of Adelaide this week will focus on Australia's endangered and dormant indigenous languages, and how to revive them. The 2013 Australex (Australasian Association for Lexicography) conference will also celebrate the 175-year legacy of Lutheran missionaries' work to document Aboriginal languages.
The conference theme is 'Endangered Words, and Signs for Revival', it will feature speakers from Australia and overseas.
"Throughout the world there are hundreds of 'sleeping beauty' languages that desperately need the kiss of life, and Australia has its fair share of these," says Professor Ghil'ad Zuckermann, from the University of Adelaide, "the conference will address some of the burning issues faced by communities and scholars alike in attempting to reclaim, revitalise and empower languages."
"For example, how to measure language endangerment, how to assist indigenous people interested in reconnecting with their dormant language, how to reconstruct and create user-friendly dictionaries for a fragmented tongue; how to coin - if desirable by Aboriginal people - new words for modern concepts in a language that was subject to linguicide. What role does oral history have in sustaining a language? Should we promote what I call 'Native Tongue Title', the compensation for the loss of language? These fascinating and multifaceted questions ought to be thoroughly answered because language is directly linked to well-being mental health, cultural autonomy and intellectual sovereignty," Professor Zuckermann says.
Professor Zuckermann is currently working with the Barngarla Aboriginal community to help revive the Barngarla language. More information about this week's event is available from the conference website.