School closures discouraged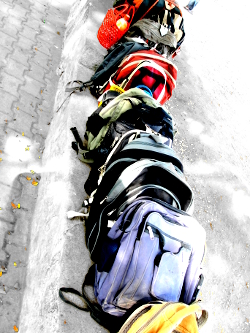 Dozens of private schools have closed due to COVID-19, but the official stance is for schools to remain open for now.
The Australian Health Protection Principal Committee – which includes federal, state and territory chief health officers – has advised "that pre-emptive school closures are not likely to be proportionate or effective as a public health intervention to prevent community transmission of COVID-19 at this time".
Earlier this week, Prime Minister Scott Morrison attempted to explain the current guidance.
"When you take children out of schools and put them back in the broader community, the ability for them to potentially engage with others increases that risk," he said.
"The other issue is the disruption impact that can have and put at great risk the availability of critical workers such as nurses and doctors and others who are essential in the community because they would have to remain home and look after their children."
On Wednesday, South Australia's Premier Steven Marshall said he would be extending schools holidays.
"This is not a political decision, it is not an ideological decision, it is an evidence-based decision, which has been informed by the brightest minds in Australia, and they're making it very clear," he said.
"Children should go to school and to preschool and to kindy, here in South Australia, and around the country, and not to do so doesn't diminish the risk – in fact, it increases the risk and it reduces our response as a nation so the coronavirus. It will harm our ability to tackle the coronavirus. So this couldn't be any clearer. The advice was unequivocal."
Victoria's Premier Daniel Andrews said schools would need to close for at least six months to make any difference to disease spread.
"As much as I know parents are concerned, if you were to do that, you would do more harm than good. It is never good not to follow unanimous and clear advice from the health experts," he said.
"There will be a time when schools will be significantly disrupted, some already have been where there has been individual cases. In many respects, the best place for the kids at the moment is at school. I am not criticising people for being scared or anxious, it is a natural thing."
Even so, dozens of private and independent schools across Australia are going ahead with shutdowns.
Scott Morrison has warned that keeping schools open is in the national interest.
The Association of Independent Schools New South Wales says the prime minister warned "there were certain expectations attached to the recurrent funding provided by the Australian Government to Catholic and independent schools".
Meanwhile, shadow education minister Tanya Plibersek has written to Education Minister Dan Tehan, providing a list of suggestions to keep kids safe at school, including;
Ensuring access to adequate sanitation facilities
Making online learning options available
Supporting at-risk children and families
Extra measures to ensure the health and safety of teachers and other staff
Special considerations so that school closures do not unfairly affect a student's marks, especially in Year 12