Rally to hack governments for good

Print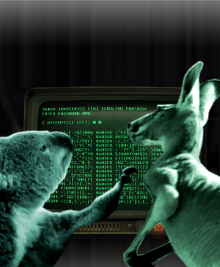 Hundreds of hackers will soon sink their digital teeth into piles of Australian Government data for the benefit of the nation.
GovHack is on again, and the 2014 competition will see the return of over 900 elite internet citizens at events in several major cities.
GovHack brings together web and application developers, open data & visualisation gurus, user experience experts, accessibility authorities, augmented reality designers, masters of the mobile and open government advocates.
Entrants are set loose on government data-sets to create new informational mash-ups, data visualisations and mobile apps.
Coders are provided everything they need to hack to their hearts' content, for the dual rewards of glory and money.
Governments collect and publish enormous amounts of data, but have limited abilities when it comes to getting it to their citizens in engaging ways.
GovHack is an event to draw together people from government, industry, academia and the general public to mash, reuse, and remix government data.
It runs over 48 hours starting with drinks and the competition announcements on the night of the launch, July 11.
Mentors in a range of areas will be on hand to help out as teams work through the weekend. By Sunday July 13 at 5pm they must have submitted their team pages, 3 minute video and any code/source materials.
Much more information is available at the official site.