Head knocks compensated

Print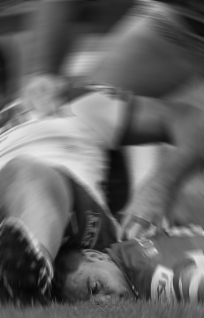 An AFL player has received a $1.4 million insurance payout for concussion damage.
Shaun Smith played in the AFL in the late 80s and 90s, suffering permanent damage caused by repetitive concussions.
His insurance company has now ruled he was "totally and permanently disabled" from the brain injuries acquired during his career, entitling him to $1.4 million in compensation.
The 51-year-old said his brain injury has affected his moods and damaged his memory.
"I'm a pretty easy-going guy, and I was getting pretty angry at the drop of a hat," he said.
"Then I started forgetting a lot of things, my short-term memory especially was not flash.
"It just goes on and on, and it doesn't make it much fun for people living around me."
Mr Smith says the insurance payout shows the damage caused by concussions is a "real thing".
"I just hope that the AFL listen, because it's people's health at risk," he said.