Gun-toting school cops defend line of duty

Print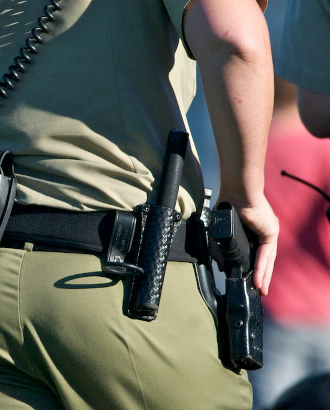 The Australian Education Union (AEU) has raised concerns after Northern Territory Police suddenly armed its school-based police officers.
A change was made last week that now allows youth engagement officers to carry guns and other regulation weaponry at NT schools.
AEU NT branch president Matthew Cranitch said it is something they would have liked to talk about.
"We have been told that they [police] will be fully armed and operational as of last week", he said.
"Certainly, teachers are shocked... the kids know little about it.
"We are unsure as to why it has happened so quickly and why there was not more consultation or discussion about it."
Police Commissioner John McRoberts has defended the decision, saying front-line officers need all the tools available to carry out their roles.
"These officers are sworn, trained, highly trained professional police officers," Mr McRoberts said.
"You expect and we often hear about a request for police officer to be at sporting events: they have their weapons.
"Police officers patrol shopping centres ... this is the environment police officers work in," he said.
A police spokesperson reportedly said officers were armed in case they had to respond to emergencies outside the school, and that previously the choice whether or not to wear a gun to school had been a discretionary decision for officers.