Go8 wants rich research switch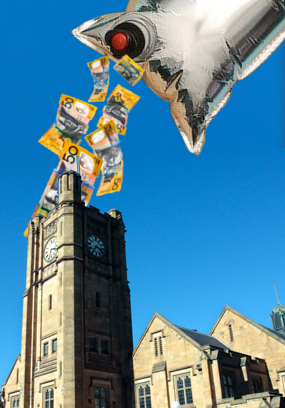 The Group of Eight universities are crying out for someone to fix Australia's "broken" research system.
The Go8 say Australia will not become the innovative economy Prime Minister Malcolm Turnbull has been plugging if it rewards mediocrity and allocates funding on an "every child gets a prize" basis.
Australia biggest universities appear to be suggestion it is inappropriate for the Federal Government to fund all research institutions, and not just them.
They want taxpayer funds to be targeted only at research deemed to be of high enough quality, and say $680 million of annual funding for PhD and master's research should be restricted to institutions equal to or above world standards in their fields.
It is a move that would deal a heavy blow to suburban and regional universities in particular, and could further entrench the privileged elite.
"Australia's research funding system is broken: it is over-complicated and rewards research that is below world standard," Go8 chief executive Vicki Thomson told Fairfax reporters.
"We are using scarce taxpayer dollars on research that is frankly mediocre.
"Instead of an egalitarian, 'every child gets a prize' approach we should be funding excellence.
"You wouldn't fund a mediocre sportsperson in the hope they can go on to win a gold medal. The Australian Institute of Sport takes athletes and invests in them because they believe they can be excellent. That's the approach we should take to research.
"It is fantastic to see the Prime Minister talk about innovation, and the key to a more innovative economy is university research and training."
Ms Thomson claims 98 per cent of research at Go8 universities is at the world standard or above, according to Excellence in Research for Australia (ERA) rankings.
She says stats show just 62 per cent of research at non-Go8 universities is of the same world standard.
Australian National University vice-chancellor Ian Young has backed a similar line, saying in a speech earlier this month: "My concern is that we don't target our research investment in areas of demonstrable excellence and hence our average research performance trails our national peers.
"One has to ask if Australia's more egalitarian approaches represent good use of scarce research funding and whether it yields the country the best outcomes."
Australian Catholic University vice-chancellor Greg Craven told Fairfax he supported universities playing to their research strengths, but said there could be self-interest driving the Go8's push.
"The argument from the Group of Eight on research is essentially: let's give rich universities all the money," he said.
"That ignores the fact that some of these universities have been around for 150 years and have had a big head start with support from the taxpayer."
Regional Universities Network leader Jan Thomas said relying on a "narrow" set of research scores to allocate funding may not be the best way.
Professor Thomas said funding should be changed to focus on creating links between researchers and the private sector.
Australia is ranked 29th out of 30 developed countries in its proportion of large and small businesses collaborating with higher education, according to the OECD.