Funding freeze to take training toll

Print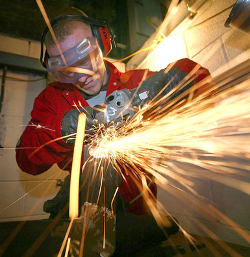 The Federal Government has announced a funding freeze of the training sector ahead of a complete review.
But the freeze on funding for training centres will be a big blow to revenue and could even lead to closures for some, with next year's loan payments for private colleges capped at 2015 levels
The Government says it is a necessary step while it lines up its training overhaul, which is prompted by frequent reports of rampant rorting of the Vocational Education and Training Fee-Help scheme.
John De Margheriti, chair of the Canberra-based Academy of Interactive Entertainment, said the freeze would mean it cannot take on additional students.
"We were planning to spend $110 million in Canberra to purchase the Watson campus... But if we have no growth, why would we spend that money?" he asked ABC reporters.
Mr De Margheriti said he knew there was a need to stamp out unethical training providers, but said it unfair that many good colleges would suffer.
"The worst thing is that by moving form a model that's month to month ... into a quarterly model it means that we'll have a $6 million shortfall in funding," he said.
"So that would normally mean that the Academy would have to close its doors.
"Fortunately it's a not-for-profit and my wife and I will donate money to the school, or give it loans or whatever mechanisms, to keep it alive."
He said some colleges may be pushed to take legal action.
"To pass through legislation like this quickly in the last sitting days with no mechanisms for the industry to say anything; for the colleges to find out through the media as we found out today what they're doing, is unspeakable," he said.
"We are going to fight... we'll put tens of millions of dollars to the war effort."