Forrest drops major money

Print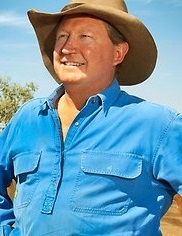 Mining magnate Andrew 'Twiggy' Forrest has announced a $400 million philanthropic donation.
Mr Forrest's $400 million tax deduction donation will be the largest single charity gift given by a living person in Australian history, with money going to six causes including cancer research and eradicating slavery.
Prime Minister Malcolm Turnbull, Opposition Leader Bill Shorten, former prime minister Tony Abbott, and actor Russell Crowe were among the elites gathered for the announcement at Parliament House this week.
"I would just simply say to all Australians give what you can, and if it isn't money, time is just as valuable," the Fortescue Metals Group founder said.
Mr Forrest, worth an estimated $5.6 billion, will claim a $200 million tax deduction for his donation.
One goal of the funding is to make cancer a non-lethal disease, with $75 million going to set up the 'Eliminate Cancer Initiative', which will coordinate work between international researchers.
Cancer expert Dr Ron DePinho will be the executive director of ECI's policy, advancement and clinical science council.
"At this very moment in history, scientific breakthroughs and major technological advances have positioned the world to make a decisive assault on the cancer problem," he said.
Another $75 million will go to higher education research, doubling the number of PHd scholars and post-graduate researchers that the foundation supports.
The Forrest's are giving $75 million to Perth's Telethon Kids Institute and Harvard University for cancer research, and the same amount for the anti-slavery efforts of their Walk Free Foundation.
Additionally, Mr Forrest has given his GenerationOne organisation another $50 million to boost employment of Indigenous Australians, increase school attendance and assist with the roll-out of the cashless debit card for welfare recipients.
Another $50 million will be split between arts, cultural, environmental and community groups helping underprivileged communities and individuals.