Disability deals bring great aid for two states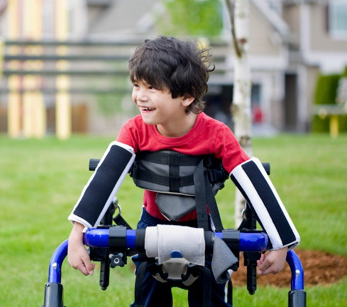 Prime Minister Malcolm Turnbull is helping more states get National Disability Insurance Scheme (NDIS) funds.
The new PM has signed deals that allow New South Wales and Victoria to proceed with the exciting scheme for people with disabilities.
The NDIS provides vital assistance for people with significant and permanent disability, helping with everything from day-to-day health issues to employment, housing and community support.
NSW and Victoria have become the first to secure agreements with the Commonwealth for a full NDIS roll-out to start in July next year.
The deals mean up to 140,000 people in New South Wales and 105,000 people in Victoria will be eligible for the NDIS when it is fully rolled out.
That figure is over half the 410,000 people expected to be covered nationwide.
While signing the papers alongside NSW Premier Mike Baird and Victorian Premier Daniel Andrews this week, the PM said it would give certainty to people with disabilities.
"This marks a huge milestone towards the delivery of one of the largest social policy reforms in our nation's history," Mr Turnbull said.
"The roll-out will be carefully managed to ensure the delivery of an NDIS that stands the test of time.
"The agreements balance improving services as quickly as possible with getting it right.
"The agreements also give certainty to their families who will receive help from the NDIS."
The Victorian Government has agreed to put in $2.5 billion per year to match the Commonwealth's $2.6 billion.
Mr Andrews said the NDIS brought "justice" for those who expected a fair go and support from the NDIS.
"This is a fantastic example of what can be achieved when we work together, when we spend less time bickering and more time focusing on the things that families and communities right across our nation need," he said.
"It is an absolutely inspirational day for the country," NSW Premier Mike Baird said.
"It's great to be here with the Prime Minister, as indeed one of his first actions to bring into effect ... the most significant social policy this country has done in a long, long time.
"The NDIS is a work that has been in progress for many years. Many people had the dream this could never happen. Well the great news today, it is.
"We have gone from over 90,000 to 140,000 who will be supported through NDIS, so an additional 50,000 people
"It will absolutely make a difference to their lives on the back of the funding that we are providing.
The NSW regions rolling out NDIS from July 2016 are:
Central Coast, Hunter-New England, Nepean-Blue Mountains, Northern Sydney, South-Western Sydney, Western Sydney, and Southern NSW.
The NSW regions rolling out NDIS from July 2017 are:
Illawarra-Shoalhaven, Mid-North Coast, Murrumbidgee, Northern NSW, South-Eastern Sydney, Sydney, Western New South Wales, and Far West NSW.
Victorian regions rolling NDIS out from July 2016 are:
Northern East Melbourne, Loddon and Central Highlands.
Victorian regions rolling NDIS out from July 2017 are:
Inner Gippsland, Ovens-Murray, Western District, Inner Eastern Melbourne, Outer Eastern Melbourne, Hume-Moreland and the Bayside Peninsula.
Victorian regions rolling NDIS out from July 2018:
Southern Melbourne, Western Melbourne, Brimbank-Melton, Goulburn, Mallee and Outer Gippsland.