Detention gag challenged

Print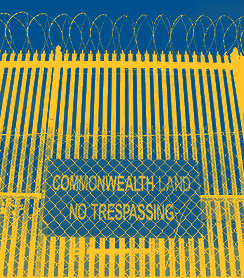 Australian doctors say they will not be scared into covering up child abuse.
Lawyers this week launched a High Court challenge to gag laws in the Border Force Act that prevent workers from speaking publicly about what is done on Australia's behalf in offshore detention centres.
Detention centre staff currently face two years' jail if they reveal any information about conditions behind the wire.
The case was brought by lawyers from Fitzroy Legal Service on behalf of a group called Doctors for Refugees.
The lawyers say they will question the secrecy provisions, and whether they breach health professionals' constitutional freedom to engage in political communication.
"If doctors stand by and allow people [in detention centres] to walk through raw sewage, just to get to the meal area, they're failing their patients and their profession," Dr Barri Phatarfod, the group's convenor, told reporters this week.
"If doctors and nurses remain silent about women and young children having showers in view of male guards, they're not fulfilling their professional responsibilities."
The federal government enacted the disturbingly repressive laws as part of the Border Force Act last year.
The government continues to insist that the laws do not prevent detention centre workers from speaking out on matters of public interest.
But it also says detention centre staff and contractors cannot publicly disclose anything that might risk safety, security or affects official operations.
Dr Phatarfod said doctors felt "forced into silence about serious issues they witness".
"As far as we are aware, no one has been charged under the law. The issue is the chilling effect, that [doctors wishing to disclose information] often say things like; 'I don't want to end up in court for months and months', or; 'I've got a young family and I've got concerns about going public'," she said.
The situation is made worse by the fact that even if they want to speak, there may be no one for detention centre staff to speak to.
The Nauru government has been banning any journalists from news outlets that might be less than sympathetic from visiting the island and its detention centre.
The lack of legal protection for whistleblowers caused the United Nations to delay its planned visit in September last year.
Additionally, Guardian Australia reporters revealed earlier this year that the Immigration Department pushed the Australian Federal Police to investigate whistle-blowing psychiatrist Peter Young, which resulted in him having his phone records accessed.
Mr Young was allegedly targeted after details of the death of Hamid Khazaei appeared in media reports.