Cuts condemned by unions, teachers

Print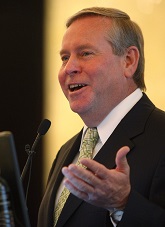 There has been outrage this week in the Western Australian education sector, after the State Government announced hundreds will be sacked and funding in some areas will be cut by 30 per cent.
The WA Premier was forced to leap to the defence of his Education Minister after the announcement this week that 350 education assistant positions will be cut, teacher numbers frozen and specialist funding for public schools sliced.
A meeting of the State School Teachers Union was attended by more than 100 school principals, deputies and support staff. Nearly all expressed anger and disbelief, according to Union president Anne Gisborne.
"The irony is, this is all being done under the umbrella of children's needs," Ms Gisborne said, "it is certainly nothing about the children, it is about ripping the guts out of public education."
"We know this government has got the capacity to properly fund public education [but] they're choosing to leave children behind the eight ball with these decisions... this is about [the government's] need to fill a budget hole."
The WA Premier and Education Minister are keen to avoid the strike action some say is brewing on the horizon. The ill-sentiment was not helped on Wednesday when Premier Colin Barnett told the head of the Primary Principals' Association to 'lighten up' and stop being so negative.
"These changes have come from good educational research, they are well-based in terms of how you properly staff schools," Barnett said, "I'm getting a little bit tired about everyone being so negative about the great state of WA where things are really very, very good and prosperous."
The United Voice union has not ruled out industrial action, upset at what it sees as a back-flip from the Education Minister. United Voice education assistant Rory Critchley says, "it's incredibly frustrating because [these are] the concerns of not just the members of United Voice, but of the teachers, the administration, the support staff - everyone that's got an interest in education... to present those ideas on behalf of all those people and be told 'we understand your point but we're going to go ahead with this anyway' is pretty disappointing and quite disgusting really."