Cultural flow model formed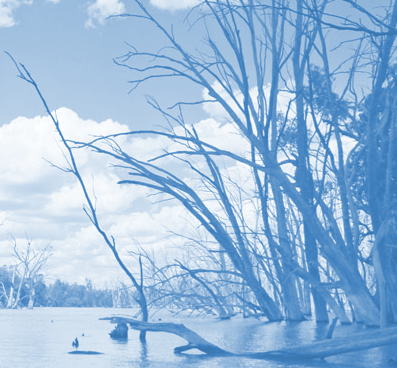 First Nations communities along the Murray-Darling Basin want a new concept for water management to be put into practice.
For millennia, First Nations peoples have cared for their country and kept rivers and waterways healthy and flowing. But since European colonisation, decades of mismanagement, over-extraction and climate change have left the lifeblood of this country polluted, diverted, and dried up.
But now, First Nations communities along the Murray-Darling Basin want to use the concept of water management called 'cultural flows' to not only restore life to their country but also justice to communities.
Cultural flows return water and its rights and management to Traditional Owners to improve the spiritual, cultural, natural, environmental, social and economic conditions of their Nations.
At Margooya Lagoon or Tol Tol (a culturally significant wetland near Robinvale in Victoria), Tati Tati Elders are establishing a model that will identify how to turn the concept of cultural flows into a practical reality.
Their hope is that this model can return healthy flows to Tati Tati Country and also provide a template for other First Nations communities seeking water justice.
To date, no water from the Murray-Darling River system has been allocated to Traditional Owner groups in Victoria, despite extensive advocacy and consultation with government for over two decades.
Margooya Lagoon, or Tol Tol, is a culturally significant wetland where Tati Tati ancestors were known to fish and camp.
The area would, under natural conditions, flood annually at this time of year but has been almost completely dry for several years, adversely impacting the health of the wetland ecosystem, and subsequently the culture of the Tati Tati community.
Tati Tati have undertaken Aboriginal Waterway Assessments (AWAs) at the site – a tool which helps Traditional Owners assess the cultural health of their Country and set priorities for water delivery.
At Margooya, AWAs have informed their Cultural Flows Management Plan – a biodiversity and cultural plan for the site that includes water, heritage and land management activities.
If the model is successful in its aims to use legal and policy tools to restore health to Country and culture under Tati Tati leadership and authority, it would provide a template for other First Nations communities seeking water justice across these over-extracted river systems.
"This would be the first time the cultural flows concept has been rolled out in practice and is a critical milestone in achieving water justice for Indigenous Nations in the Murray-Darling Basin," says Grant Rigney, Ngarrindjeri man and Chair of Murray and Lower Darling Rivers Indigenous Nations (MLDRIN).
"Just as 'environmental flows' are needed to sustain the ecological values of rivers, cultural flows are needed to support the cultural traditions and community development needs of First Nations.
"Establishing a cultural flows model at Margooya Lagoon will provide a template for other First Nations groups seeking water justice and create a ripple effect along the Murray-Darling Basin."
An Environmental Justice Australia report prepared for MLDRIN and Tati Tati Wadi Wadi to assist with political advocacy for the legal and policy mechanisms behind cultural flows is accessible in PDF form, here.