Bushfire report released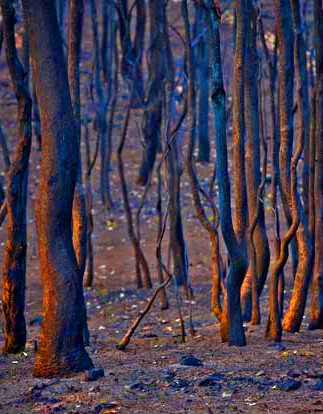 The 'Black Summer' bushfire royal commission has concluded and released its report.
The Royal Commission into National Natural Disaster Arrangements was called in the wake of the devastating 2019-20 summer bushfire season, but took a fairly broad view of Australia's readiness for and response to all natural disasters.
The subsequent report provides 80 recommendations on the coordination of all levels of government during emergencies, warning systems for the public, firefighting resources, climate data, the role of the Australian Defence Force and how charities and other groups can best respond in the wake of disasters.
The report spells out the evidence that climate change has and will increase the frequency and intensity of natural disasters.
It calls for a more co-ordinated approach and new legislation to allow the Federal Government to declare a national state of emergency.
The recommendations cover both national and state-based responses, suggesting more standardised and consistent approaches, possibly delivered via a national cabinet approach.
"Every state and territory suffered fire to some extent," said chair of the commission, retired air chief marshal Mark Binskin.
"The fires did not respect state borders or local government boundaries. On some days, extreme conditions drove a fire behaviour that was impossible to control."
The commission made no recommendations relating to Australia's greenhouse gas emissions, but did warn that the level of risk will rise as global emissions climb.
Some experts were concerned that the original letter to establish the Royal Commission used only one term relating to climate change; 'adaptation', making no mention of 'mitigation'.
'Adaptation' to climate change involves rebuild societies and economies to adapt to the hotter planet.
'Mitigation' usually refers to actively reducing the causes of climate change, such as emissions from dirty fuels, coal and gas, dirty transport, unhealthy food production systems, and socioeconomic inequalities that also fuel inefficient consumption, production, imports and exports.
"This was to be expected, perhaps, from a federal government that has actively resisted recognition that Australia's economy is built on old and unsustainable technologies, energies and resources," says Dr Paul Read from the Monash Sustainability Institute.
"A few things have restored my faith in the system, however. Closing counsel Dominique Hogan-Doran accepts that 'further warming is inevitable' and argues for 'mitigation' as well as 'adaptation'."
The full report is accessible in PDF form, here.
Dr Richard Thornton, CEO of the Bushfire and Natural Hazards CRC, say it could be a good beginning.
"The Royal Commission calls for a prioritised national research agenda that targets critical gaps in our knowledge," he said.
"In areas such as critical decision making, climate change impacts, extreme weather and fire prediction, shared responsibility, resource coordination, understanding risk, mitigation, and community warnings and education, we can now build on the findings and recommendations from the Royal Commission to help guide Australia's future research direction.
"These insights will help Australia meet the challenges we are bound to continue to face in coming years.
"This report shows that we have learnt much through science but there is still more to do. We must continue to ask the difficult questions and be prepared for complex answers. We must continue to identify what we do not know. That is the role of research."