Bechtel's big intake to boost whole sector

Print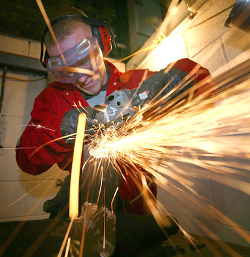 Engineering giant Bechtel has made one of the biggest single intakes of apprentices in the Australian history, signing up hundreds of new workers across three liquefied natural gas (LNG) plants.
More than 400 apprentices will be employed and trained during construction of the LNG plants on Curtis Island off Gladstone in central Queensland.
The big intake is part of a commitment made by Bechtel ahead of designing and building the Queensland Curtis LNG, Santos GLNG, and Australia Pacific LNG plants, for three separate customers.
Federal Employment Minister Eric Abetz took a tour of the new LNG plants this week, saying it showed the gas industry continues to make a vital contribution to training, and building the workforce required to maintain the industry in Queensland.
He said Bechtel's apprenticeships would upskill the region.
"Of course we do concentrate on our young people, because that what it has been historically, but here we're celebrating a 53-year-old who has now achieved training and gone through an apprenticeship," Mr Abetz said.
"So it's for all ages who are willing to take on a new trade and start on life's journey or make a change in life's journey.
"What we need are new projects to come online all the time; that is why we need to diversify our economy, that's why we need free trade agreements such as we've negotiated with Japan and South Korea and are on the way to achieve in something with China," he said.