Anti-Abbott war chest to top $30 million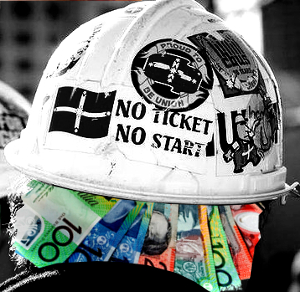 Reports say the ACTU is setting up a $30 million campaign to spread anti-Abbott messaging.
News Corp media outlet The Australian has published a punishing report into the "ACTU-backed grassroots army" which it says "is being secretly deployed" ahead of the next federal election.
It says unions will push "rank-and-file activists... backed by 25 full-time organisers" to run a campaign against the LNP under the banner of 'Build a Better Future: Fight for Our Living Standards'.
"It will be the movement's biggest political campaign since the 2007 battle against the Howard government's Work Choices widely credited with contributing to the Coalition's defeat," the story in The Australian says.
The campaign will allegedly be run on six key points — workers' rights, Medicare, education, public services, a secure retirement and "a fair go for all".
Union members are expected to start in their workplaces, building one-on-one connections to sway people while remaining "under the radar" from mainstream media coverage.
ACTU secret­ary Ged Kearney told reporters that the union's actions in the lead up to the election will be about spreading real messages.
"We will have real people, real activists, from the community out there campaigning," she said.
"We are gathering an army of people to stand with us and fight with us for our agenda.
"Stage one is about calling togeth­er our allies and friends — we call them activists — to work with us on the campaign.
"The next stage is prosecuting our agenda in marginal seats where we have built up our armies. This is when we will become more visible. We will get out there in the communities. We will do the doorknocking, visit shopping centres, make phone calls.
"It is pretty basic Campaigning 101, but on a much larger scale than ever before."
The ACTU congress in May this year backed plans to increase union affiliation fees in order to put the movement on "a permanent campaign footing".
News Corp claims these extra fees will bring the ACTU about $14 million in the next few years, and hit $30 million after individual contributions by separate unions.
"It is not a secret that we would like to see this government — that has attacked workers, the social wage and unions — lose the next election," Ms Kearney told reporters.
"It is not necessarily about Tony Abbott personally but about his government's agenda.
"We don't think it is in the interests of working people for his government to stay in power."
"We realised this was going to have to be a broad campaign when the government's commission of audit came out.
"We realised the Abbott government was going to attack the very heart of Australian's living standards — that's our social compact.
She said the ACTU's plans would bring the unions to a new level of campaigning.
"We are running a much more sophisticated campaign this time," Ms Kearney said.
"We are using polling. We are using social media. We are using digital technology to find out the issues that will strike a chord with voters. The messaging will be targeted to those voters."
While Ms Kearney admitted that the ACTU wanted the Coalition out of office, she claimed the unions were not explicitly advocating a vote for Labor.
"We are going to say vote for workers' rights, vote for universal healthcare, vote for high-quality education … people can make up their own mind who to vote for," she said.